Aiming to be the company that the world needs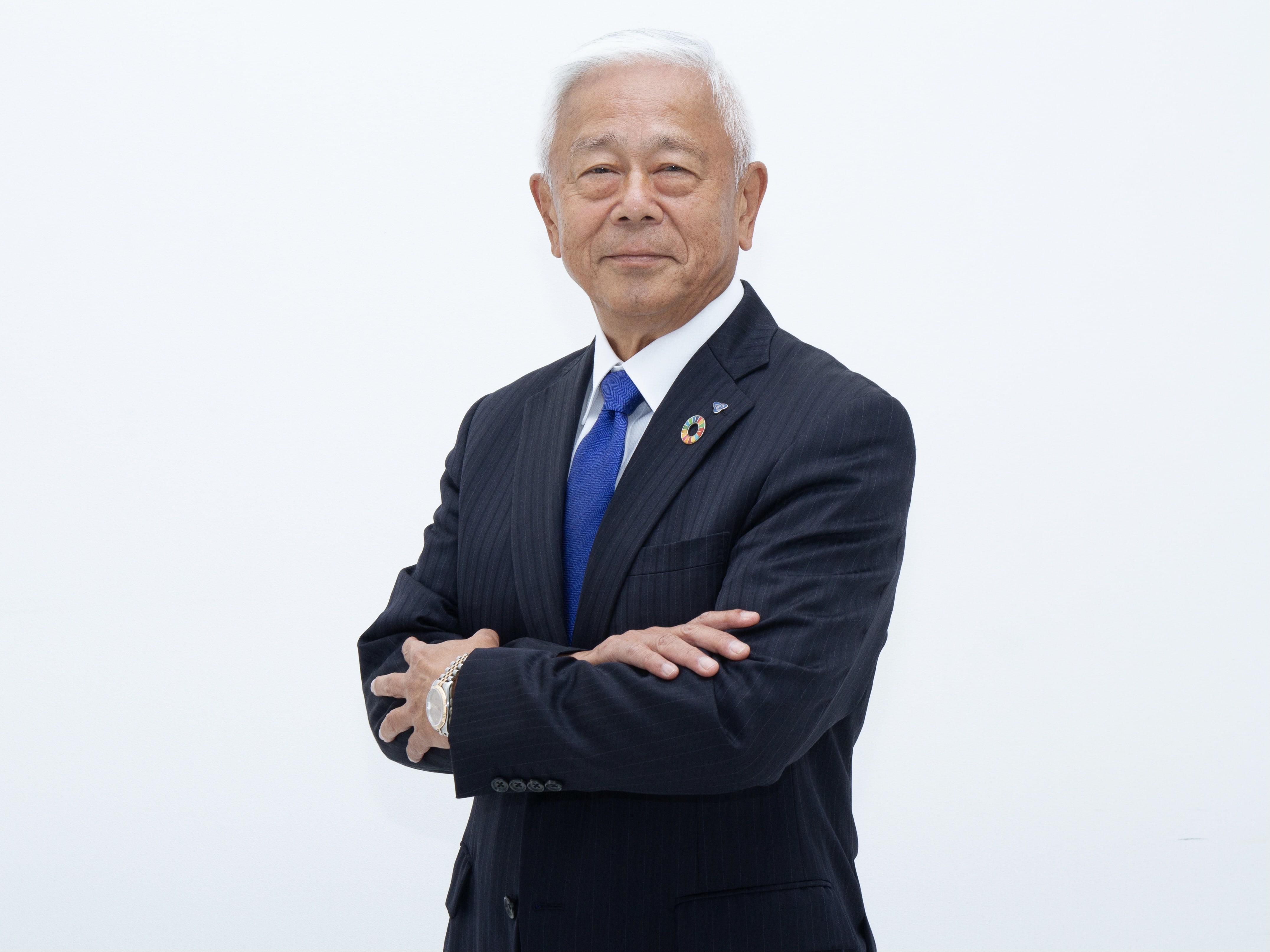 Today, there have been growing expectations for companies to fulfill their social responsibilities as they work on business activities to increase corporate value and earn profits. In this context, compliance (with laws and regulations) serves as the guiding principle of corporate social responsibility. We set our own demanding targets and meet ever greater challenges to become a global company fulfilling social needs.
In pursuit of eco-friendliness
Throughout the history, human activities have been supported by the rich nature and generosity of our planet. In recent years, however, global warming has caused problems in different parts of the world, putting survival of mankind at stake. Now, each and every member of our society is required to reduce the impact on the global environment and enhance eco-consciousness and eco-friendliness. Pantech commits itself to promoting recycling of plastic resources in an effort to minimize environmental impact.
Company
Representative Executive Officer
Established From
Capital

10 Million Yen ($95K USD)
Headquarters

4-5-8 Seta, Otsu City, Shiga Prefecture, 520-2134
Core Business

All-encompassing waste plastic recycling services
Corresponding Bank

Bank of Kyoto, Bank of Tokyo-Mitsubishi UFJ, Shiga Bank, Shoko Chukin Bank
Certification
Main Clients

Mitsui Chemicals/Prime Polymer/Sekisui Chemicals/Riken Fabro/Toray/Teijin/Aicello/TDK/Panasonic/Toyobo/Pentel/Mitsubishi Chemicals/Daicel/Nissan/Sanko/DuPont/Daiichiseiko/Murata/FPICO/Toyota Boshoku/Uny/Asahi Kasei/Daiwa House/Risupack/Toyo Seikan/Furukawa Electric/Ichijo/Kurabo/Chuo Kagaku/Aisin/Nitto Denko/Home Logistics/Shimamura/CO-OP/Rengo Logistics/Anna Cargo
Award History
Affiliated Organization
Pursue happiness for all employees by withholding the law of Sanpoyoshi as the management philosophy.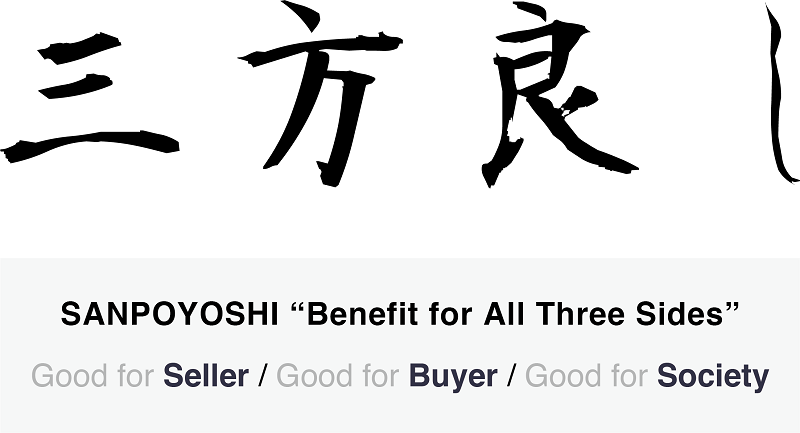 Based on the principle of "
Sanpo
Yoshi" (benefit for all three sides; the vendor, the customer, and society), Pantech seeks the greatest possible benefits for itself, waste-producing companies, and its partner plants.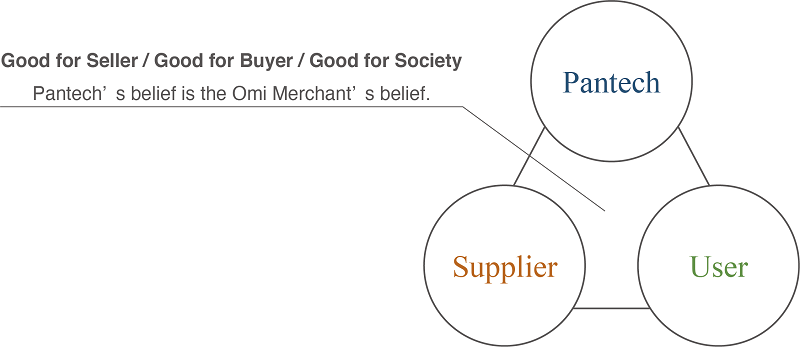 View plastic waste as a precious resource and create new value with it. Strive for the construction of a sustainable circular economy and become indispensable to society.
A credo (Latin for "I believe") refers to one's belief or philosophy. We are convinced that only companies that have a credo (that is, a solid corporate philosophy) can survive these difficult times.
We believe in a participatory framework in which each and every employee is expected to share in and further the Pantech credo. Accordingly, Pantech's employees are advised to carry our "Credo" booklets with them so that they can be mindful of the credo as they go about their activities. We believe that a credo, not a management policy, is the best way to ensure that our corporate values permeate throughout our company at a collective and individual level.
1. Fighting Spirit
We aim to be a self-motivated group that finds possibilities in everything.
2. Play the Central Role
We play the central role, involve people around us, and engage proactively in everything.
3. Proceed with Courage
We do not hesitate in making proposals and acting based on our beliefs and principles.
4. Realization of Desires
We have strong, persistent desires and realize the futures we envision.
1. Become an Ear of Rice
We take a positive attitude as humble humans without pride.
2. Have a Spirit of Gratitude
We pursue the happiness of all employees, have gratitude for all people, and swear to repay one's kindness.
3.
Raise
Spirits
We will do our best for the world with sincere efforts and unwavering determination.
4.
All Employees are Managers
We always are conscious of reform and carry out work responsibly while considering efficiency and profitability.
1. Habit of Significant Attention
We always work having a diversified perspective with a bird's eye, insect's eye, and fish's eye.
2.
Demonstrate the Ability to Change
We devise ourselves everyday and take any change as an opportunity to act positively.
3.
Complete Work with Action
We do our best with all one's power. Speed! Speed! Speed!
4.
Maximize Customer Satisfaction
We maximize customer satisfaction by pursuing PDCA.
Headquarters

4-5-8 Seta, Otsu City, Shiga Prefecture, 520-2134
TEL: +81 77-543-6625 FAX: +81 77-543-6685

Means of transportation

Train

Take the JR Tokaido Main Line (Biwako Line), and alight at Ishiyama Station (15 minutes by bus or 10 minutes by taxi from station)

Bus

Take the Teisan Bus departing from JR Ishiyama Station bound for Tanakami Shako or Alps Tozanguchi, and alight at Suitengu Bus Stop (1 minute walk from bus stop)

Car

From Osaka:


Take the Meishin expressway, and exit at Seta-west interchange (five minutes from interchange)

From Nagoya:


Take the Meishin expressway, and exit at Seta-east interchange (ten minutes from interchange)
You can find us next to the FamilyMart along the Setagawa River
Tokyo Branch

4F Nippon Life Insurance Co. Kinshicho building, 3-7-8 Koutoubashi, Sumida-ku, Tokyo, 130-0022
TEL: +81 3-5638-6788 FAX: +81 3-5638-6787

Means of transportation

Train

Take the JR Sobu Line, and alight at Kinshicho Station (three minutes by walk from station)
Take the Tokyo Metro Hanzomon Line, and alight at Kinshicho Station (three minutes by walk from station)
Kyushu Branch

6F Hakata Ekimae Daiichi Building, 2-3, 1Chome, Hakata Eki Minami Hakata-ku,Fukuoka-city, Fukuoka Prefecture. 812-0016 / TEL:+81 92-432-0202 FAX:+81 92-432-0203

Means of transportation

Train

Take the JR Kagoshima Main Line, Bullet train Sanyo/Kyushu, Subway Airport Line and alight at Hakata Station (five minutes by walk from station)
The Representative Office of Pantech Corporation in Ho Chi Minh City

9F Phuong Tower, 31C Ly Tu Trong, District 1, Ho Chi Minh City, Vietnam
Anti-Social Forces Basic Policy
In order to prevent damages from anti-social forces and keep appropriateness and soundness of business operations, Pantech Corporation has established the below basic policy.
*Pantech is a supporting member of the Shiga Prefecture Organized Crime Banishment Promotion Center.
1)
Pantech
will respond to antisocial forces as a whole organization below the top management and ensure the safety of officers and employees who respond to antisocial forces.
2)
In order to prevent damage caused by antisocial forces, we will cooperate systematically and appropriately with external specialized agencies such as the police, the violence banishment promotion center, and lawyers.
3) We do not do business with antisocial forces and block all relationships with antisocial forces.
4) We will firmly reject unreasonable demands from antisocial forces and will take legal action from both civil and criminal perspectives as necessary.